I went back from the Agile Coach Camp in Cornwall on Sunday, and all I had in mind was this word: gratitude.
Of course, I'm grateful for this week-end, the organizers, the facilitators, the venue, everything. But it's more than that: I felt that we were submerged all week-end long by a river of gratitude. Gratitude was natural for everyone. When you put 80 agile coaches together, I guess this is what happens, but it never occurred so clearly to me before. These are words I heard all day long, everywhere:
"Thank you, you inspired me so much with your facilitation skills"
"Wow, you shine!"
"Thanks for being so vulnerable and sharing this with us"
"Thank you to lighten the mood with your humor"
"I give hugs for free!"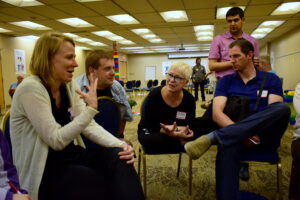 The impact on me was that it just felt good. I felt part of a community, which was exactly the mission of the coach camp.  I never felt judged or at the wrong place, even if I was silent, sometimes.  I once read that gratitude can help us build happy relationships and grow our self-esteem; it puts us in a mood where it's easier to have generous interpretations for events or people around us. Based on what I experienced this week-end, I strongly believe that.

I think it's the best Coach Camp I've experienced until now. Maybe it's because of the people that were there, who were so generous and nice, competent and knowledgeable. Maybe it's because of the 7 hours of singing and guitar-playing we did Saturday night. Maybe it's because of me, the capacity that I developed to be present and to enjoy the moment. In fact I think all of this made what the Agile Coach Camp is all about: creating a community of Agile Coaches by sharing and socializing. And we were all grateful about that.
Thank you all 🙂
All pictures available here.